Bay Area's Award-winning IT & Cybersecurity for Healthcare Practices
EMR Setup & Support
Imagine a medical office with no paper. It's difficult to conceive but it's possible with the right strategy and partner.
No matter your specialty, location, or practice size, you are being affected by Electronic Medical Records. There is no ignoring the importance that is being given to this technology and what it could mean to your organization.
Thankfully, TruAdvantage has a team of experts that have years of experience in educating and helping practices select, implement, and optimize Electronic Medical Records. Whether you have a system already or haven't even started looking, TruAdvantage can help you.
TruAdvantage experience includes implementation assistance and ongoing hardware support services for all major EMR solutions. Our team of experts work with your practice and the EMR vendor to ensure your systems are fully functional with maximum up-time.
We have expertise with integrating and interface setup and support with lab, billing, transcription, and other medical related services.
Paperless Office:
Electronic Prescriptions and Accessibility of Charts
Indexed and easily searchable by multiple identifiers.
Increased doctor and patient satisfaction.
Document Management
A system that scans and electronically stores all of your paper records.
Increase Revenue:
Get up to $45,000 per doctor for meaningful use of EHR.
Simplify and optimize your billing process.
Expedite insurance reimbursements, co-pay, and balance payment.
Minimize or eliminate the need for transcription services.
Automate more and decrease number of staff.
Increase Productivity & Workflow:
Improve workflow greatly and increase staff efficiency.
Full mobile access to patient records via phones, tablets, and mobile devices.
Easier regulatory and reimbursement reporting.
Save time, shorten exams, and automate repetitive or common tasks.
Stay Compliant & Secure:
Full HIPAA compliance.
Enterprise level security and full data encryption.
Full back-up, disaster recovery, and business continuity of patient records.
Enhance Patient Care:
Improve accuracy of diagnosis and health outcomes.
Enhanced decision support, clinical alerts, reminders, and medical information.
Legible, complete documentation that facilitates accurate coding and billing.
Automate interfaces with labs, registries, and other EMRs.
Safer, more reliable prescribing.
EMR/EHR Replacement
Healthy Computers. Healthy Medical Practice.
TruAdvantage was founded with one principal goal in mind: to help medical practice personnel and doctors utilize Information Technology to improve patient care, lower costs, operate more efficiently, and optimize their revenue cycle. Progressions in EMR solutions, along with requirements of HIPAA compliance and meaningful use, have made technology in the healthcare industry more dynamic and challenging than ever.
With all these rules and regulations, you want an EMR application that actually works and doesn't slow down your practice. One that won't cause downtime or support issues.
If your current EMR/EHR is causing you problems and headaches, then isn't it time for you to look for a new provider? TruAdvantage can help you find, implement, and manage a new EMR/EHR, with no stress, interruptions, or problems.
We believe in providing our clients with accurate and comprehensive information that lead to a solution that will help their practice grow and flourish. The TruAdvantage team will be with you every step of the way, providing you with assistance, information, and support.
Reasons to Replace Your EMR/EHR
Implementation, Training, or Support Issues:
One of the main reasons a practice switches vendors is due to lack of vendor support. Let TruAdvantage provide supplemental support as well as help in finding a new vendor that meets your needs.

Financial Stability of Vendor:
A lot of EMR software vendors run into the problem of not having financial stability. This will lead to vendors not providing timely updates, quality support, or implementation of new technologies and features.
Vendor Can't Meet Meaningful Use Requirement:
If your current EMR/EHR vendor can't meet meaningful use standards, your practice is at risk. You can't qualify for government stimulus incentives and you run the risk of getting fined for not meeting regulation.
Integration Challenges:
Are you encountering challenges with your EHR not communicating with your other systems? We can help with interfaces or help you find an integrated solution with a proven track record.
EMR/EHR Hosting
Is EMR hosting right for you?
EMR systems are critical to the day to day operations of your business, and hosting your EMR coupled with the healthcare IT support services of TruAdvantage, is the best solution for your medical practice.
So what EMR solutions can be hosted in a data center? Well, most major EMR solutions may be hosted within a data center. TruAdvantage provides the following EMR hosting services including eClinicalWorks hosting, Allscripts hosting, Greenway hosting, NextGen hosting, Sage Intergy hosting, Practice Fusion hosting, and NextGen hosting.
TruAdvantage provides a HIPAA compliant data center solution that is unmatched in the healthcare field. Through HIPAA complaint practices and technology, staying complaint with HIPAA requirements is easy with TruAdvantage by your side.
Redundant power, cooling, and internet connectivity.
State of the art security to keep your data safe.
HIPAA compliant data center processes and solutions.
24/7/365 monitoring and management of your server(s).
Data backup and redundancy to multiple locations.
Virtualization and co-location services available.
Healthcare Practice Setup
Let TruAdvantage help you set up technology in your practice designed just for you.
Since 2001, TruAdvantage has helped setup and support over dozens of practices across the Bay Area. We stick with you every step of the way, to make sure the opening of your practice is as painless as possible.
Technology Support Services
Computer network setup and configuration
24/7/365 monitoring of systems and servers
Remote, on-site, and telephone support services
Wireless network setup and security
Network design, wiring , and setup
Internet & Telephone
High speed internet selection
Telephone service selection and implementation
Internet and telephone wiring
Email & Website Solutions
Email hosting solution – Cloud based or server based
Email setup and configuration
Smart phone email configuration
Domain research and selection (yourpracticename.com)
Web site development
EMR/EHR Solutions
EMR/EHR Selection
EMR/EHR implementation support services
EMR/EHR support solutions for all major solutions
EMR/EHR reporting
Discount prices on servers, PC's, laptops, and tablets
 Help choosing the best solution for your practice
 Help choosing the best solution for your practice
HIPAA Management & Training
The fastest, easiest, and most affordable way to reach HIPAA compliance.
Are You Ready for the Audit When It Happens?
Today, under new legislation, the threat to your practice and your money is REAL. To protect your practice and meet the challenging compliance requirements of the newly revised HIPAA, you must take a proactive stance to guarantee your electronic patient data is safe and secure.
Even well-established hospitals, like the Massachusetts General Hospital, are affected by these laws. Back in 2009, they were fined $1 million for a HIPAA breach. How would YOUR practice handle a $1 million fine?
Luckily, the TruAdvantage team are all HIPAA, HITECH, and HIE certified. We can help train your staff and ensure your practice is fully compliant.
What Happens if Your Organization has a HIPAA Breach
Introduction to HIPAA Secure Now
Our HIPAASecureNow Solution is Trusted Nationwide:
HIPAA Compliance Since 2010

Over 3000 Clients in ALL 50 States

Trained over 30,000 Employees

Over 5000 HIPAA Risk Assessment

Over 400 National Partners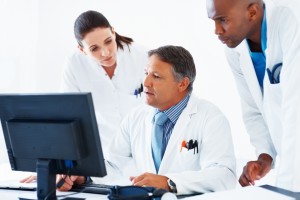 The Challenges Your Practice Faces

Preparation:
Because the Office of Civil Rights considers compliance mandatory for any entity that processes, stores, or handles personal health information, how will you prepare for the HIPAA/HITECH Audit?

Costs:
Where can you find the most beneficial compliance solution at the most cost-effective pricing — both now and long term?
Resources:
Do you currently have the specialized IT skills required to quickly and effectively manage your compliance?
Business:
Will you be able stay focused on providing quality patient care, running your practice, and being profitable while at the same time ensuring compliance?
Thorough Risk Assessment:
We perform your Risk Assessment
Streamlined Risk Assessment Process – you will spend around 1 or 2 hours working with us and then we do the rest!
We make additional security recommendation
HIPAA Compliance Snapshot
Threats Analysis / Risk Determination
Satisfy Meaningful Use Requirement – Core Objective – Protect electronic health information (Conduct or review a security risk assessment of the certified EHR technology)
don't put those incentive payments at risk!
Easy to understand reports/work plans
HIPAA Security Training:
We train your employees
Interesting and engaging training videos – HIPAA is boring no more!
HIPAA training for existing and new employees
Retrain employees on an annual basis
Provide employee compliance testing
View compliance reports that show when employees were trained and their compliance testing scores
Employee Security Reminders
HIPAA Policies and Procedures:
We Write your Policies and Procedures
Employee access to policies and procedures
Videos explaining security policies
Easy to understand policies Easy to follow procedures
Addresses the HIPAA Security and Omnibus Rules Allows you to show compliance with HIPAA regulations and protect patient information!
HIPAA Compliance Portal:
Online access that makes complying with HIPAA easy!
Employee access to policies and procedures
Track Business Associates
Security incident response
Access disaster plans
Store contracts and documents
HIPAA related information Educational videos
Audit "Book of Evidence"
Easy to Use:
We do all the hard work for you!
Streamlined Risk Assessment- only takes around 1 or 2 hours to complete
HIPAA Policies are easy to understand and employees love the policy videos!
Training is light and enjoyable – HIPAA is boring no more!
Our team is with you through the whole process – we'll get through this together!
Our tools and templates make HIPAA easy!
The price of our service is easy on your wallet
$100,000 Financial Protection:
Financial protection from fines and breach expenses!
HIPAA breach related expense
HIPAA violation fines
Includes PCI (Credit Card) breach expenses
Available to Covered Entities and Business Associates
Available for organizations with 50 or fewer employees
Allows you to sleep at night knowing your protected!
Security Incident Response:
Security breaches are stressful – we are here to help!
Security Incident Response Tools
Required breach Risk Assessment tool
Breach documentation tool
Patient/HHS notification steps
Access to security experts to assist with breach response
Our security breach tools combined with financial protection will make a bad situation much better!
Track Business Associates:
Business Associate tracking tools
Business Associate Agreement (BAA) templates
Upload BAAs to Compliance Portal
Business Associate (BA) compliance verification questionnaire – make sure your BAs are protecting patient information!
We help you track Business Associates and make sure they are protecting your patient information
Compliance Tools:
HIPAA regulations are complex and confusing, our tools make complying easy!
Track access to servers/systems with patient Information
Track CD/DVD/USB drives with patient information
Track system activity reviews
Termination procedure templates
Notice of Patient Privacy (NPP) templates
Emergency operations procedure templates
Many more tools and templates