Managed IT support for Bay Area Small to Medium Businesses.
totalCARE (managed IT) delivers peace of mind I.T by reducing cost, increasing efficiency and revenue by our enterprise-level IT management and unlimited support at a low, fixed monthly fee.
Imagine a comprehensive, turnkey IT management and support package that offers protections BEFORE any problems arises, preventative solution IF anything should go wrong, and peace of mind AFTER the issue is resolved. That's totalCARE, our proactive approach to create an enterprise-level IT department for small to mid-sized businesses at an affordable fixed monthly fee. Addressing infrastructure, support, and strategy, totalCARE is delivered in the following 4 key delivery areas (blocks) through our staff and automation tools.
Fast-response Help-desk + Proactive IT Management + Strategic Guidance = Our Unique Formula for Bay Area's SMB's to Get a True Advantage with IT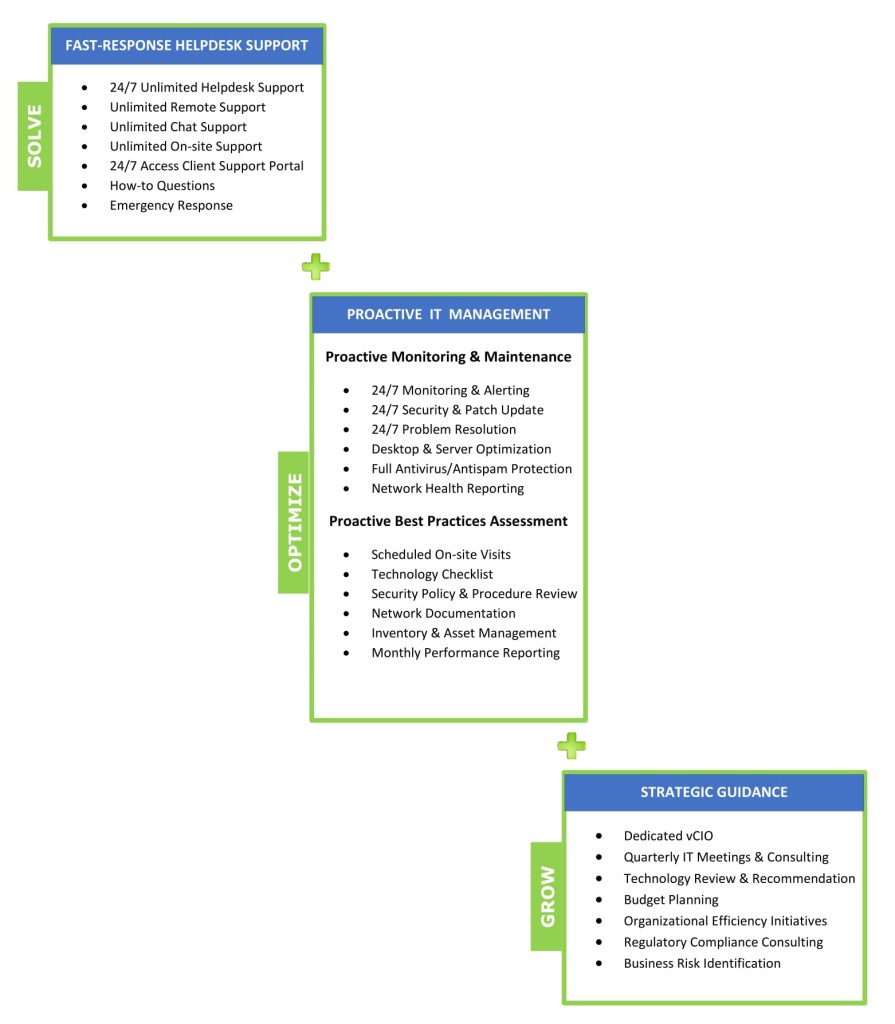 REDUCE IT support and maintenance cost by a low monthly fee
SAVE MONEY.
Low fixed monthly fee. Predictable IT budget every month.
Unlimited, all-inclusive support.
Unlimited remote & on-site support (varies by plan).
No IT payroll or staff overhead!
Unlimited support for servers, desktops, applications, or users at a fixed cost.
Minimize downtime, maximize productivity, increase profitability.
Free virus and firewall protection, which includes free licenses.
INCREASE staff productivity
Reduce downtime of systems for staff.
Train and provide support to staff with computer issues, boost morale.
Make staff more efficient, save time.
Keep network and staff computers protected at all times.
PROACTIVE, not reactive
24/7/365 monitoring of network, servers, desktops, and applications.
Instant notification of our NOC engineers on issues.
Instant resolution initiation and escalation.
PEACE of mind
Network and internet monitoring, ensuring your information is safe.
Automatic backup and testing of servers and critical data. No need to check it manually.
Antivirus and security patch update and monitoring.
Minimize downtime, maximize productivity.
ENTERPRISE–LEVEL IT department at fraction of cost
Build a "Fortune 500" IT department at a fraction of the cost.
Review and create IT budget and asset management.
Qualify and hire IT staff for your office.
Provide Strategic IT guidance for business growth, disaster recovery, and scalability.