Finally! An enterprise-grade VoIP phone system that will lower your phone bill and system phone maintenance with "fortune-500" phone system capabilities and features for your office and staff at a small business budget.
Reach full collaboration and maximize staff's productivity with totalVOIP: fortune-500 caliber phone systems at a small business budget. Our totalVOIP is TruAdvantage's voice over IP (VoIP) solution to affordable fortune-500 caliber phone systems accessible to small and mid-sized businesses, with no upfront investment or expensive maintenance of high-end phone systems. Eliminate the hassle of maintaining your old phone systems. Our totalVOIP also includes unified communications where all forms of communication such as email, voicemail, and faxes are delivered and managed in one central place. That means you can access them from anywhere in the world, such as a secure web browser or your mobile phone.
Benefits of having TruAdvantage as your IT partner and Phone (collaboration) provider
Onboard & offboard users easily (done by us). Easily expand and grow. Scalable
No more finger-pointing: we take care of our IT and phone issues from a to z. One team responsible for both
Support @ your fingertips: integrated into our ticketing & monitoring system.
Integrates with Office 365, Google, and Outlook integration
Enhance customer perception: with fortune-500 collaboration tools
Save money: use Internet to lower phone bills. Use video conferencing to save on travel costs
Be reachable everywhere: have access to your office phone from anywhere as if you are in the office.
The one number concept meaning that you no longer have to give out your mobile number.
Unified Communications: emails, faxes & voicemails in one place. Accessible from anywhere.
Increase staff productivity: enterprise-level communication & collaboration features
total

VOIP: FEATURES & BENEFITS

Reduce Your Phone Bill By 30% to 80%
Teleworkers, or people working from outside the office, can make calls free of charge – saving you significant charges. Connect remote offices by using bridges, and all calls between offices are FREE. International DIDs and IP Telephony allow customers to call you cheaply and increases customer satisfaction.
Use Your Extension from Anywhere with Unparalleled Mobility
With our VoIP clients for Android and iOS you can take your extension wherever you go. totalVOIP 3CX delivers

the one number concept meaning that you no longer have to give out your mobile number.
Make and receive calls from your smartphone – at no cost
Set your status to available, away and out of office from your smartphone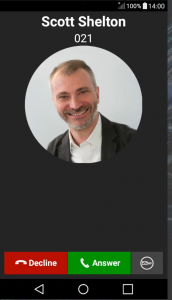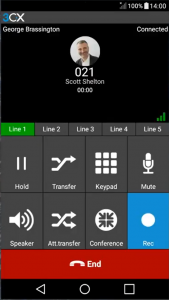 Cut Travel Costs with Integrated Web Conferencing
totalVOIP's integrated web conferencing solution saves you travel time and money by allowing users to host web meetings and enjoy face-to-face communication wherever they are. Attend meetings around the world with the cutting edge WebRTC technology of totalVOIP 3CX WebMeeting.
See Presence of Colleagues for a Unified Communications Experience
The ability to view the status of other colleagues ("Presence") is a great time saver, avoiding unnecessary call transfers or voice mail tags and makes managing and working with remote employees easier than ever. Need some quiet time to finish a project? Customize your status and prevent any annoying disturbances.
Deliver Faxes & Voicemail to Inbox for a Unified Communications Experience
Inbound faxes are converted to PDF and forwarded to users via e-mail, without requiring any fax server software. Likewise, voicemails are converted to sound files and forwarded via e-mail.
Instant Messaging / Text Chat for a Unified Communications Experience
Allow employees to communicate together via text chat, without the need to rely on third party internet messaging systems. totalVOIP users can send and receive text messages via the totalVOIP 3CX Windows, Mac, iPhone and Android clients from anywhere.
Use Softphone to Make and Receive Calls from Your Desktop
With 3CX's softphones for Mac and Windows you can manage your calls from your desktop and make and receive calls via the office phone system from your computer, even while out of the office. Using a headset, you can even use a 3CX client as a full desk phone replacement.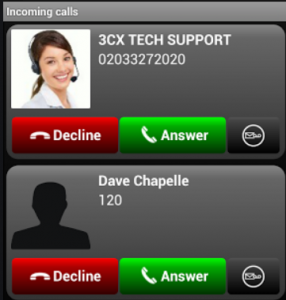 Acclaimed Android and iOS VoIP Clients to Reach Unparalleled Mobility
totalVOIP features native Android and iOS VoIP clients that are continuously updated and tested and set the standard for mobile phone VoIP clients. With an inbuilt tunnel to avoid remote firewall issues, calling from over 3G or from any Wifi hotspot is extremely reliable. 3CX Android and iOS clients fully support PUSH, allowing the phone to be on standby and save battery life.
Integrates with Office 365, Google, Outlook & Others!
Launch calls directly from your CRM package. Inbound calls are matched to customers based on the caller ID and logged in your CRM system. Accurate call journaling of inbound and outbound calls with call duration allows you to generate insightful reports on customer and agent activities.

Zendesk, Salesforce, Freshdesk, Office 365, Microsoft Dynamics and more
Automatically link incoming calls to customer records
Launch phone calls with a single click from your browser or application
Ensure customer satisfaction with quick and easy logging of interactions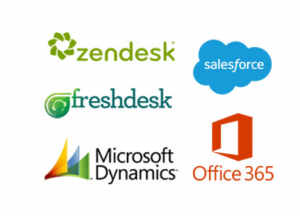 Video Conferencing for All
With 3CX, companies of all sizes can now take advantage of video conferencing as an advanced collaboration and online meeting tool. Avoid paying a monthly subscription fee for each user and implement open standard peripheral hardware for an inexpensive solution. Unlimited users mean inefficient and unprofessional account sharing is eliminated.